Are you building a PurpleBrick road to failure?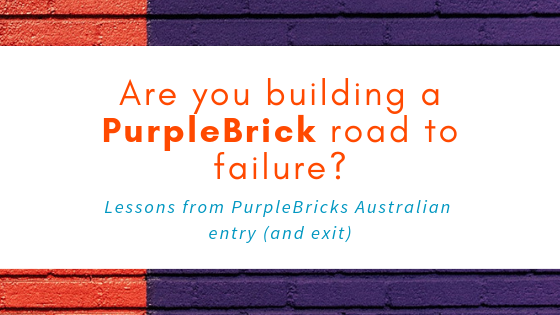 We see businesses fail, and there are always lessons, but the failure of PurpleBricks in Australia has me intrigued! I am interested to know how a business that has been so successful in other markets can get it so wrong here. There s some great commentary from others in the property arena, but I wanted to take a broader look at what went wrong, and what established businesses and start-ups alike can learn from this.
Assumptions can hurt you.
As humans, our brains are wired to make sense of the world, make assumptions and then act on them. We make sense of the world by putting things together in groups and drawing conclusions about them. This is also true in business. One of the most important things in starting and building a business is to be aware of and test these assumptions. There is an old and wise saying "when we assume we make an ass out of you and me".
It seems that PurpleBricks assumed that what had worked in the UK market would also work in Australia. Given their failure, I think it is safe to assume that they were wrong. As astute business owners, one of our jobs is to SEE our assumptions and to create ways to test them.
Action: I want you to think about your assumptions. What areas in your business are based on assumptions and are they right? How do you know?
I have found that the best way to test them is to ask your customers and see how right (or wrong) your assumptions are.
This exercise of seeing assumptions, testing them, reviewing your business and changing, isn't something done once and then forgotten. It is an iterative process that, done well, allows businesses to continually learn from and ensure that we grow and change through serving the best interests of our customers.
It starts with listening
We have to start by listening. How do you know who your clients are and what they need, want and value if you don't listen? Listening involves asking great questions that open up your assumptions and ideas to review and insight from customers. As Tony Robbins says, "Successful people ask better questions, and as a result, they get better answers."
Had PurpleBricks spent time getting to know the Australian Market by listening to experts, consumers, estate agents etc, they may have been able to modify their market launch to actually speak to benefits for Australian consumers. As it was, many of the things that their brand purported to be about just didn't fit with the Australian experience and resulted in low attraction rates of potential customers.
Action: I like to start by asking customers to walk through their journey and explain their experiences with a company or brand.
Finding Fit
Listening and understanding is only the start of your excursion into building a client-centric business. Next, you have the opportunity to find fit with them. To consider how you are best suited (or not) to help this client, to meet their needs. This is about showing our existing and potential customers that you have listened. More than that, it is about testing your assumptions to see if you have understood their problem and the type of solution they might be interested in. This is your opportunity to explain to them how your product or service fits with them – or not. This is exactly the point where sometimes we are there to see the resulting Yes or No from a client. Sometimes, the truth is we are not the best fit to help them and there is nothing wrong with learning who your market isn't.
Action: Understand which clients best suit you - and not how you add value and best fit with them.
Finding and loving objections
I know that PurpleBricks would have heard from customers, employees, and others that things weren't working. When you hear criticism or objections what do you do? In buying psychology, an objection simply means that people are thinking of buying from you. Particularly in the first phases of a business, it is imperative that we deeply understand the questions people ask and how to best answer them. When we are getting objections or questions, it is great to use these to review and listen again. To use this information to change what we are doing or how we do it. In fact, I encourage businesses who want to get up close and personal with their clients to actively look for objections. I am sure you have heard the term 'handling objections'. I hate that and I'll tell you why. You handle a snake; you handle a problem. Objections and questions are an opportunity to learn more about what people think and feel about us.
Action: Think about how you encourage and look for objections in your business.
It's all about Value!
The last piece in my simple client-centric process is all about value. The process of business has its foundations in the creation of value. First and foremost, there has to be value for you – otherwise why be in business. Then, value for your team, the client and finally the whole community. When you can truly see, understand, and feel the value: win:win:win:win - then you know you are onto a winner
Action: Do a value map so you understand where the value in your business ecosystem lies.
Metisan Simple Client Centric Process
If PurpleBricks had understood the Australian market and value proposition, they may well have had a different result. As I often say, there is no point spending all your money developing a mousetrap – when everyone has a cockroach problem.
So here is what I want you to think about:
• How well do you find out about your potential clients and your existing clients and how they feel about what you are doing and how you are doing it?
• How well do you know what value you create for you, your team, your clients, and the community?
• Are your business processes about finding fit and delivering this value and continually looking at going deeper on this?
I challenge you to see your assumptions and mindfully use these to build a better, more client-centric business.
If getting more intentional and client-centric in your business is something you want to learn more about – then let's talk!